Aisha
I've always expressed a strong interest in gospel music and praise & worship, having obtained my start at Alondra Church of Christ in Los Angeles, California. I enjoyed singing church hymns on Sunday mornings, but have always wanted to do more. At the age of seven, I began singing with my grandfather's choir, performing at other local churches.
After graduating from the California Academy of Math & Science, I began attending San Francisco State University, where I am currently studying biology, with the ultimate goal of becoming a registered dietitian.
As a freshman, I was introduced to the San Francisco State University Gospel Choir and Gospel Gators organizations. As a member of Ja Ronn & FLOW, I've developed my passion for creating heartfelt messages and melodies. I enjoy worshiping through song because it allows me to convey love and salvation to those around me so that the blessings of the Lord may be bestowed upon us all!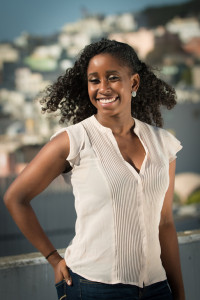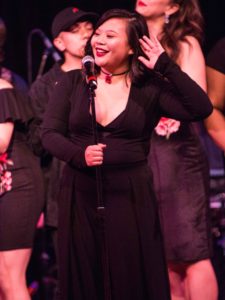 Christa
When Ja Ronn asked me to be part of his vision, I knew I was getting into something special. I had been singing since I was little, practicing to the likes of Luther Vandross, Celine Dion, Whitney Houston, etc. with goals to inherit their soulfulness, range, and control. I sang at church and competed in school competitions, which drove my passion to sing and perform. I always hoped to apply my voice on a platform to impact others in a positive way. 
I earned my degrees in Biochemistry and Chemistry from San Francisco State University and am currently pursuing a career in pharmacy. Ja Ronn & FLOW has allowed me to have an outlet away from work and school, by honing my faith, refining my vocal abilities, and being blessed with this outspoken, goal-driven, dynamic family!
CJ
​Music has always been my passion. I began playing instruments and was involved in the performing arts at a very young age, soon realizing that it was my calling.
In my teenage years I searched to find an outlet to express myself and found a new love in songwriting. Aside from FLOW, I'm working to complete my first solo album, and pursuing a Bachelor's degree in Music Business.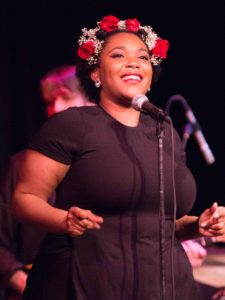 Curstin
I was born and raised in Pomona, California and recently moved to the Bay Area to become a student within the humanities department at San Francisco State University. Music has always been a great part my life. I remember as soon as I learned how to walk and talk, I sang Disney songs in my mom's heels every chance I could. Once I started attending SFSU, I joined the Gospel Gators. The choir was a great way to express my passion for music, make new friends and to explore my religious beliefs. Through the Gospel Gators, I was blessed with the opportunity to join Ja Ronn & FLOW. Joining this group has been a major step forward in developing my music and professional skills. When I first joined FLOW, it may have started off as another ensemble but, over time, they have become my family away from home.
Once out of school, I plan to gain as much musical experience as possible and create a lifelong career as a singer and performer. Ja Ronn & FLOW has become a great foundation for my life's passion and I can't wait to see the blessings that come to this group!
Daesha
I am a student at San Francisco State University and a member of the lovely Ja Ronn & FLOW. I have been singing since I can remember and I love to sing for the glorification of God. There has been nothing but love, praise, and progression in Ja Ronn & FLOW and I am looking forward to all the wonderful experiences to come with this ensemble!
My goal is to not only change lives through the ministry of song, but also to bring people to the "Living Water that never runs dry", not for the glorification of myself, but for God, who saved me when I didn't even know I needed saving!
Ja Ronn & FLOW has a message to bring to the masses, and I believe that through faith, love, and determination, we'll do just that!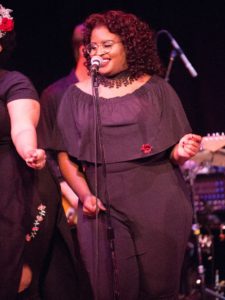 Dee
Born and raised in Sacramento, California, I knew very early that I was destined to sing. As a child, I sang in various children's choirs where I learned to lead songs. In my teens, I began my professional musical journey a session vocalist, working in recording studios and at various venues. As an adult, I have worked with artists Lb Muzac, Jamie Foxx, and Raheem DeVaughn, just to name a few. I strive to continue to grow in my craft through practice and vocal training. As a member of Ja Ronn & FLOW, I want to leave people feeling empowered by the song, touched by the melodies, and fill their spirit with every note.
Derrick
I grew up listening to oldies and loved Motown as a kid. I often surprised people in public when I sang a song from the 1960's word for word. Blues, funk, jazz, house, R&B, and gospel are now some of my favorite genres. Music with great melodies and female singers who possess depth and color has always resonated with me. Some of my favorite artists are Aretha Franklin, Etta James, Janis Joplin, Kim Burrell, The Clark Sisters, Fantasia, and Dinah Washington.
I am from Southern California, but now reside in the Bay Area. I studied at San Francisco State University and graduated with a B.S. in Kinesiology. I am currently a personal trainer for Equinox, taking pride in helping my clients to increase their physical fitness. Aside from fitness, my other passions are traveling, Muay Thai boxing, and music. I lived in Australia for a year in 2007, and I have also traveled to New Zealand, Thailand, Peru, Argentina, and Brazil.
I love being a part of Ja Ronn & FLOW! I can't wait to see what the future has in store for us!
Francesca
I am a second-generation Filipino-American born and raised in San Francisco, California. My singing career started like many by singing at home, church and at family parties. While in high school, I joined the school choir, which brought me opportunities to travel to places like Hawaii, New York, Germany, Austria, and Italy. Singing has always been my passion. I consider singing a lifestyle.
In 2010, I graduated from City College of San Francisco with an Associate's Degree in Transfer/Liberal Arts. After, I attended SFSU and received a Bachelor's Degree in Communication Studies. Currently, I am a Graduate Student in the Counseling Program at SFSU with a focus in College Counseling.
As a member of Ja Ronn & FLOW, I hope to impact audiences by sharing positive message through uplifting music!
Harmony
I was born and raised in Cosmopolitan Baptist Church in Oakland and I have been singing since I was 3 years old. I was the little chocolate baby singing in the choir at church. I love to use the gift that God has given me. Growing up I was the youngest singer but had the big voice. While attending San Francisco State University, I joined the Gospel Gators, which is where I met our wonderful leader Ja Ronn. After singing with the Gators, I was asked to join an amazing group called Ja Ronn & FLOW. Joining this group has been a blessing.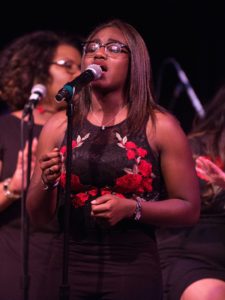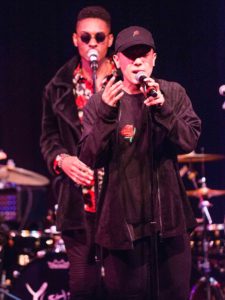 Jakob
I have been around music all my life, as the "son of a preacher man", singing on a church stage since I was a toddler. Growing up at church, we only listened to Contemporary Christian music, like Hillsong, Avalon, and Jaci Velasquez. Later on in high school, I joined the Touch of Class Choir which exposed me to gospel music.
My musical influences include people like John Legend, Michael Jackson, and Beyonce. I would describe my vocal style as a mix of R&B and gospel with a hint of rock. I have been a part of the San Francisco State University Gospel Choir and Gospel Gators organization since 2011, and am currently apart of this awesome family and ensemble Ja Ronn & FLOW!
Khareasha
There has always been a special place in my life for music. Living in a home with a choir director, and choir members, the omnipotence of music and song engulfed me at an early age. Upon recognizing my magnitude of my gift from God, I began singing in the Youth and Adult choirs at my church just at the age of 7, and eventually for competitions, events and school programs as I got older. My musical selection over the years has ranged from the voices of Mary Mary and Fred Hammond to Lauren Hill and Jill Scott, all who have, and continue to influence my vocal range and ability. During my musical journey, I was able to meet a wonderful group of people, who's passion for Christ, was imminent through their deliverance of music and song, and even privileged enough to become of this family we call F.L.O.W.
Madeline
Portland, Oregon born and raised, I moved to San Francisco in 2014 to pursue a career with my degree in advertising. Part of building my life in this big new city was reconnecting with music. I grew up in dance, choir, and theater but focused largely on sports in college. Missing that musical part of me, I auditioned for Gospel Gators on a whim and remembered how much I love to sing and perform.

Through Gospel Gators, I got the life changing opportunity to join Ja Ronn & FLOW. Being in this group has brought me so much fulfillment and joy. Most rehearsals I still can't believe that I get to perform alongside such insanely talented vocalists. With the love and support I get from this group, the Bay Area is starting to feel like home.
Shay
I am a Bay Area-native that has been singing since I exited the womb. As a youngin', I was happy to be the center of attention, gathering my cousins for sing-a-longs and dancing with my nana. Throughout my life, I have been involved in countless choirs, musicals, and adventures. I am not just a singer; I also have a passion for the culinary arts and event-planning. I live for bringing comfort, acceptance, and bright energy everywhere I go. I continue to remain in awe and gather inspiration from the music and talents of artist India.Arie. I strive to exemplify the quote: "The highest expression of love is to give without expecting".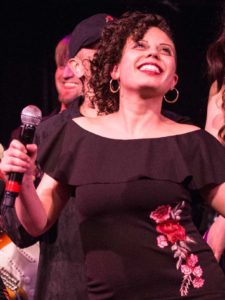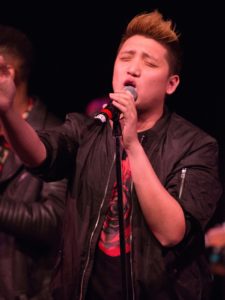 Richard
I discovered my love for singing at a young age. My parents joined the church choir and I thought it was the coolest thing in the world. I would sing along, even if I didn't know the words. From that point on, my parents made sure I participated in choir in every church we moved to. This has given me a deep appreciation for praise and worship music now.

In high school, I was drawn to R&B balladeers, such as Luther Vandross, Whitney Houston, Stevie Wonder, and Brian McKnight. The way their voice sincerely conveys the emotions from the lyrics inspired me. It has heavily influenced my singing and I strive to always tell a story when I sing.

Currently, I work as a Certified Nursing Assistant in a skilled nursing facility in Saratoga. I am thankful to be a service for those who are in need, during a time when many of them are facing confusion and loneliness. God has blessed me with way to make a positive impact, which is a responsibility I try to carry as a member of FLOW.